After being taught a valuable lesson of obedience, Mrs Dipuo Molekwa (48) from Doornpoort in Montana testified about the goodness of God in her life after being obedient.
"In December of 2017, the Man of God Professor Lesego Daniel declared a fasting but I had already started experiencing redemption of the body from October. When Papa finally declared fasting he mentioned that some have already started but are disobedient.
Because I was one of them, after being rebuked by the Man of God, I continued with fasting until I started experiencing some attacks. They came in a form of an excruciating headache and a sharp pain which at some point, stopped me from coming to church on Friday. That same day, again I woke up to a sharp pain which forced me to drive to church where I arrived at 2:00am. Upon my arrival, Papa was still preaching", she said.
When the Man of God Lesego Daniel was done preaching, he started prophesying and the first prophecy was concerning the exact same thing which Mrs Molekwa was facing or experiencing. After manifesting due to that prophecy, she was taken to the front where the Man of God Professor Lesego Daniel prayed for her and told her to continue with fasting. Even though Mrs Molekwa was sometimes disobedient, she still persisted and whenever this pain hit her, it was a reminder that she is not supposed to stop fasting.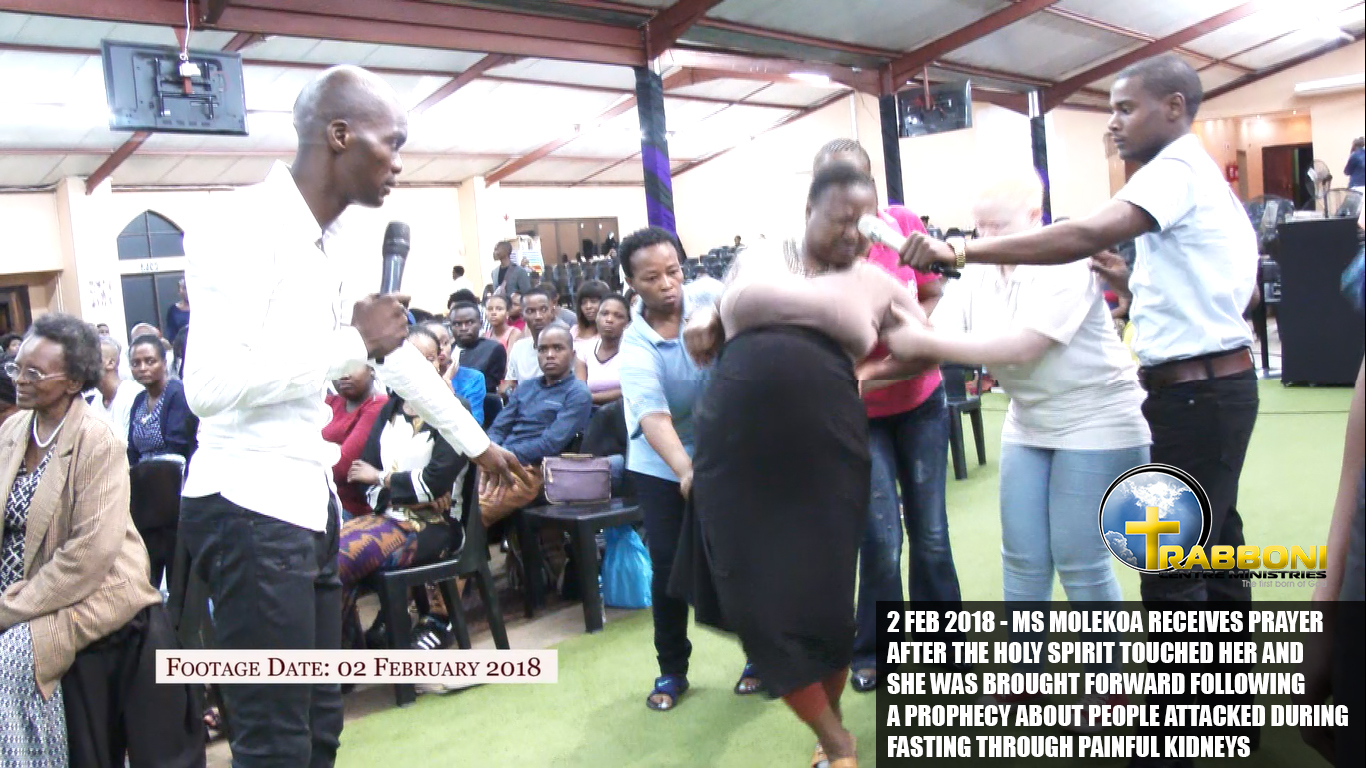 On April 2018 the Man of God Professor Lesego Daniel gave a word of prophecy concerning finances and businesses although it was not really directed to her and she received a bottle of Treasures of Darkness Anointing Oil. On the 3rd of June 2018, there was another prophecy regarding people who are able to kick out demons but end up being attacked which she manifested to. The 48-year-old was given the Blood from the Fathers cup which brought breakthrough in her life.
"On the 7th of June 2018, I received a call from a game reserve offering my family and I, a free game drive and a complementary lunch. The following day, I took my family again to that venue and upon arrival, we were treated with another complementary snack and lunch; We were offered a room where I was presented with timeshares for a period of two years. I was also given an opportunity to purchase a unit but I opted for a rent to buy option for two years.
This option allows me to check if it is a suitable unit for me and my family and should we decide to take it after the specified period of time, then it can be registered in my name. Though I did not have money, the unit was reserved for me. Now, I am only liable for the levy which is less than R800.00 a month. I have also received an opportunity to visit any resort in South Africa and a cruise trip within South Africa. This is a break through that I never expected in my life.
God did say that 'Call unto me, I will answer'. He answered with unknown things, those never seen or heard before. He truly knows our hearts desires so all that we need is to desire God and all His righteousness. My advice to everyone is that disobedience never pays with what is good", she testified.
TO GOD BE THE GLORY!!!