Haggai 2:6-9
"This is what the Lord Almighty says: 'In a little while I will once more shake the heavens and the earth, the sea and the dry land. I will shake all nations and the desires of all nations will come, and I will fill this house with glory,' says the Lord Almighty. 'The silver is mine and the gold is mine,' declares the Lord Almighty. 'The glory of this present house will be greater than the glory of the former house,' says the Lord Almighty. 'And in this place I will grant peace,' declares the Lord Almighty."
I want to teach a bit about what God is doing now, it is happening in the body. This is not happening in the Old Testament but it is what God is doing now. This prophesy has to happen in the New Testament, this is not for the old. When He shakes the earth He shakes all nations. When God does something in His body there is no nation that will not experience what He is doing.
When God spoke in 2013 moving into 2014, – "All nations will look unto this church," many never realised the Glory that was coming. The Glory is something that one cannot forget; something that someone can fight but never defeat. It is something that Jesus had to reveal. The first miracle that Jesus did, turning water into wine; when God shakes the earth He brings something unknown. When the child is about to be born, a child destined to do this, Gabriel will stand.
There is a certain number that will stand and shake the whole world. The multitude to be produced by this number will never fail God. They will never go out unnoticed. Many will see that they have been bowing down to fake, photoshops are no more. "Once again, I will shake…" when He shakes, what can never be shaken will remain. What is not of God will be shaken.
What is made can never be shaken but what is created will be shaken. In 2013 moving into 2014, it happened four days after we spoke. Every nation got to know about this. Four months ago it was not an earthquake and many began to explain. Someone came from above and brought down the sceptre, not to anyone but to the number. The first represented the One coming again.
Hebrews 12:25-28
See to it that you do not refuse Him Who speaks. If they did not escape when they refused Him Who warned them on earth, how much less will we, if we turn away from Him Who warns us from heaven? At that time His voice shook the earth, but now He has promised, "Once more I will shake not only the earth but also the heavens." The words "Once more" indicate the removing of what can be shaken – that is, created things – so that what cannot be shaken may remain. Therefore, since we are receiving a Kingdom that cannot be shaken, let us be thankful, and so worship God acceptably with reverence and awe, for our "God is a consuming fire".
During the times of the Israelites, when He came down from the mountain His voice shook the earth [Exodus 19:18], but now when we teach it is not according to experience. We are talking about God acting now; the kind of preparation already there. Anybody can receive a gift in the body but there has to be a shaking to remove what is not right. Heaven and earth are going to shake. You cannot be in the body and bring your own thing.
When God shakes, even what is created will be shaken and at the same time God will be doing something. The lava in the earth will begin to move because Someone from above came and put something in this number. This time is not only this church, there is a certain number. And this number, this is the number that God knows on earth. These ones are Mine, they do things without choice. They do things without their minds; they do things according to things from above and real power from above.
Offensive power and offensive wisdom because this is the rock of offence; causing those who are shaken to stumble and fall. When the shacking happens, some are losing. What is given by the Lord, no man can shake. There will be such power, many thought they saw something, you have not seen anything yet. What you have seen is just a drop of water in the ocean. Heaven and earth will pass but My Word will remain [Matthew 24:35].
Many have been quoting this, how does it pass, and the Word remains? This is the time where the body will experience such. When heaven and earth pass, there is a shaking so that what is created passes and what is genuine remains. "But seek ye first His Kingdom and its righteousness, and all these things will be given to you as well" [Matthew 6:33]. Pagans look for these things, running for prosperity, running for money and showing people what they have – all these have been shaken already.
Seek first the kingdom so that God can be all over. Created things will be shaken. Those who first seek the Kingdom never think that others are prosperous, those are created things. Riches of the sinners are laid up for the just [Proverbs 13:22]; someone is labouring for you. Someone is toiling for you, someone is a slave. Slaves do not abide in the house forever [John 8:35]. Slaves will not remain in the house. There are those who serve like slaves, heaven and earth will pass through the shaking of an earthquake but the Word shall remain. So that what cannot be shaken may remain.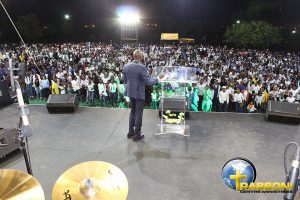 Keep the Word, look for the Kingdom, the Kingdom is in you – it overshadows you. Rulers and leaders of this age never perceived it, they are doomed to pass away. Such scriptures are prophetic and this is happening in a little while. That which old prophets released, they were led. It was the shadow of the reality and the reality has come. It is the reality of God from above. God is here to bless us all, to raise us up. Consider yourself blessed to receive such.
Many received the 2014 prophecy and clapped their hands but four days later they were shaken. Once more I will shake and people will see the Glory. Before 12:00 midnight we were offering a prayer of thanksgiving. Let us be faithful and give thanks. Consider yourself blessed when you are here. God came with the fire in the mountain and the mountain shook [Exodus 19:18]. Someone is coming on earth and yet it is a little while.
Seek first the kingdom and its righteousness and everything will be added unto you. When you receive the Kingdom, there is a time that God has appointed, where He shakes what has been created so that what was made can remain. You have been made and not created. What is created will be destroyed.
Isaiah 45:7
I form the light and create darkness, I bring prosperity and create disaster; I, the Lord, do all these things.
God created darkness and light He made. Evil He created and peace He made. Behold I make all things new and it will be through the shaking and everyone will notice what is created. It will not go without being noticed. Some eyes will be opened and many will begin to see.
Haggai 2:6-9
[Isaiah 45:7] I created darkness but light I made. When the shaking happens, that which has been created – darkness, will be destroyed. You are a light, a city on a hill and you cannot be hidden. God is here to release His power. In [Exodus 19:18] He came with a fire, for God is a consuming fire [Deuteronomy 4:24] and the mountain had to shake, yet "I will once more shake" and He shook in Exodus 19. God is a consuming fire. God is here to bless us together.
Consider yourself, you who believed in His reality, you who believed in His Presence and Kingdom; remember, I said this church and there are those in this church who will pass (just like heaven and earth). You are stiff-necked like the Israelites, the Word comes and you create yourself. Repent now, change now. This shaking will not just happen elsewhere and leave those who create themselves in the church. This involves the whole body, it says "All nations".
When God begins to do a new thing, people think they have more knowledge above the new thing and they want to explain it. The one who comes before Me is a thief and a robber [John 10:8] and such are shaken. That which God gives, it is the secret of the knowledge of the Kingdom. God is with you, remain with Him. Ebenezer, worship before 12:00 comes (there is a reason why we worshipped and prayed before midnight). Is it in Spirit and in truth or is it a manifestation of the evil spirit in you?
You may stand and follow the Word and yet it is a manifestation of evil in you, and there are some attachments. Where there is an attachment there is creation. Attachment came by the Pastor, Teacher, Evangelist, Prophet, Apostle – it comes with those gifts. If there is no attachment they minister with purity. A heart is meant to meet with someone. There are many who are not faithful to each other – it shows one is created and the other is made.
The heart is there because someone is going to meet with another. The unfaithful are shaken. Why does the Spirit of the Son come into your heart? Because the fellowship is of the Father and the Son. There are many who call themselves Christians but they are not Christians. Some I meet and I see that I will not last with them because God immediately shows me their hearts. Many are happy that they met with the Man of God but what will pass is of this earth.
You can never have a heart without meeting someone, are you pure to the person you meet? If you are pure, there are many who were disappointed by those they met. Do not worry, it is a revelation to show that someone you met was not pure. The person you had met is no made but created. You can see that you are not of the world, you have received the Kingdom not shaken whilst they have received the Kingdom shaken.
Hebrews 12:25-28
There were people who thought they were there, these are times where the subjects of the Kingdom are thrown out because He does not only shake the Kingdom. Some are there and called subjects of the Kingdom. Many will come from the east and the west, they will sit with Abraham, Isaac and Jacob whilst subjects of the kingdom are thrown out [Matthew 8:11-12]. Jesus is not just talking but speaking what will happen.
Some scriptures, many just spoke them but do we ever see the happening, do we have a heart created or a heart made? The heart which is made receives the Kingdom but the heart which is created is destined it be shaken. The heart carrying gifts will be shaken with the gifts and that which you have will be given to someone else. Listen to everything I am saying now. When God speaks do not look at Jesus as they looked at Him. They came to Him and said show us the Father [John 14:8], they could not see the Father. And He said how long have I been with you?
You can be with someone but not carrying his spirit, not being connected to him. You can make appointments and meet but you will not be aware that the one with a pure heart, the revelation has been given. You might be excited to meet with him but he is not excited to meet with you. You have come to Zion, a city on a hill. What is a city on a hill? You are the light, the city on the hill. You cannot be shaken and you cannot be hidden.
It is not the shaking of the world as many thought but God's own time, plan and purpose to reach out to His body and to show everyone that He is God. The number that God brings will not do what fortune-tellers do. What they do, we do so there is nothing new. People who are not born again can tell you that even their own seers can do. But God because He is God, how can He show Himself like a fortune-teller? God cannot operate and tomorrow here comes someone doing what He is doing.
God comes alone, they come as five – five snakes. We need to know and understand what God is doing; this is the body of Christ, this is God's glory. You do what the fortune-tellers are doing, then you push certain organizations to take what you say so that tomorrow you can some and say I testify. You are a blind preaching to the blind. Gods yes remains yes. Let us know god in the spirit and you will be able to know true heart.
You have to understand that the heart teaches us about two people, the Father and the Son. Hence He says, (when God talks about people who are fake) they are close to Me with their lips but their hearts are far away [Matthew 15:8]. They have hearts but their hearts have no meaning. Lips which do not depend on the heart are fakes. They do have hearts but they are not people after My own heart. David was a man after God's own heart [1 Samuel 13:14]. There are people whom you meet, do not cry for a relationship.
Understand what is happening, you have met what is created. When you meet rejoice because God separates you from such. When you do a genuine miracle today, who stands and influence others, who is shaken wearing a suit? These miracles that happen today are there to separate those who are genuine from those who are not genuine. Some miracles happened to separate you from the fakes; it is not just a miracle happening but it is showing the Glory of the Lord and also to separate you.
In a little while, the Glory of this house shall be greater than the former Glory. It is time when you say you are anointed, what does your age have to do with being anointed? God preserves and strengthens you. Why? Because He knows that the created will stand but He will make sure He looks at you progressing, not being pulled down. Many run for gifts but they do not know the meaning of gifts. You may say you are healing the sick but what you are doing must do something to you as well.
You will no longer ask, saying, show us the Kingdom; if you ask such it means you do not know what is in you. You speak from above and you do not speak like those who speak on earth. You speak prophesy and tomorrow it is shaken, it ceases. One says something and it is shaken meaning it is created. There are many who speak what is created. You sit down and prepare what you will preach, starting from the introduction, the body and the conclusion – you create. What about speaking that which is from the beginning!
It was before the creation of the world. It is a warning, yet being enlightened in the Spirit. Jesus loves you. There are those who will carry and live with this today. It will be a process for you to understand what God is doing in your life.
TO GOD BE THE GLORY!!!
Please follow and like us: